How to Host a Stress-Free Thanksgiving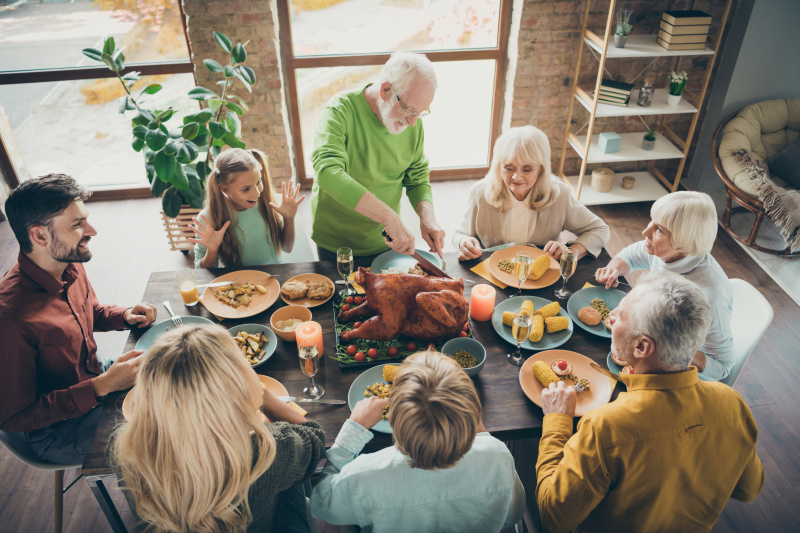 If you're hosting Thanksgiving, you're most likely taking care of all the necessities to make sure your loved ones have a memorable holiday. From cleaning and decorating your home, to prepping for a stand-out meal, serving as host means taking on a seemingly endless to-do list...and an inevitable dose of stress.
So how do you manage to enjoy Thanksgiving when you're hosting? According to restaurateur and social media influencer Rosalynn Daniels, it's all about time-saving strategies. Try some of Daniels' tips so you can actually participate in the day and relish the time with family and friends:
Start in advance. Sit down and think about all the things you can do in advance. You'll be surprised by how much you can accomplish, so get started on preparations this week.
Plan the meal. If you haven't gotten your recipes and grocery list together yet, do so today! If you're buying a fresh turkey, check for availability as soon as possible.
Make space. One of the biggest stressors of preparing a holiday meal is running out of room, so get ready for holiday food-prep items and leftovers by cleaning out your fridge and freezer. Get rid of the things you don't need or have forgotten about, and commit to eating what's currently on hand until Thanksgiving so that you'll have a clean slate to work with.
Prep your utensils. One of the most important tools in the kitchen is a sharp knife—especially around the holidays. Make sure your veggie knives are sharpened…and most definitely your carving knife!
Plan for leftovers. Rummaging for mismatched plastic containers as guests are heading out the door is another stressful scenario, so be prepared by having bags and storage containers set aside and ready to go in advance. Use plastic baggies to store pre-chopped veggies and pre-measured seasonings, as well.
Set the table. About a week in advance, wash your linens, lay out the place settings and serving dishes and set the table. Not only will doing this in advance save you time, but it will put you in the position to ensure that you have the right dishes for all your menu items.
Make it a family affair. It's a special day and a special meal—make it even more special by giving loved ones a dish to prepare or a task to do. When the whole family pitches in, the true spirit of Thanksgiving emerges.
Reprinted with permission from RISMedia. ©2021. All rights reserved.
---
Also in This Issue: